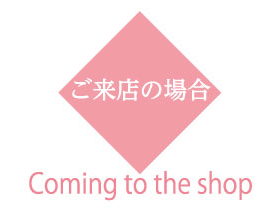 Flowchart to rent a kimono
1. Coming to the shop
It will go more smoothly if you make an appointment before you come to the shop.
Please have your ID with you.
The store is open 10:00a.m. to 6:00p.m. from Monday to Friday.
If you would like to come on Saturdays, Sundays or national holidays, please ask by email.
2. Choosing a kimono
Look through the kimonos and choose one you like.
3. Application form and instructions
Please fill out an application form with your name, address, phone number, height and shoe size.
We also ask you to show ID such as a passport or driver's license.
You also need to read some instructions and sign the form.
4. Payment
We accept cash or credit card. (VISA, Master, JCB, American Express)
5. Dressing
You can change in the shop and go. We help you dress in kimono for free.
You can also use a free locker to place your items in.
6. Returning
Please bring back all the things you rent the next day.
If you would like to return them outside of our business hours, please ask the staff beforehand.
On returning, our staff will check them with you.
In case you lose any of the things you rent, you need to compensate for the loss.