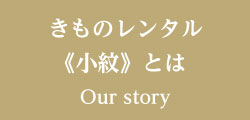 Our story
Our company was established 57 years ago.
We have been a kimono retail store since then.
These days we hear a lot of customers say
"kimono are difficult" or "kimono are hard for me to wear."
We thought we'd make it easier.
We would like more people to enjoy kimono.
So we started this rental business in 2017.
Please try and enjoy your day in a kimono.
Kimono make the day a little special for you!